A lightbulb security camera is one of the best security cameras that provides safety in a flexible way. On the other hand, a home security camera system is an effective tool for protecting a home. Since it may serve both as a deterrent and as a tool for recovery in the event that a crime has been committed. Burglars are more likely to avoid targeting properties that prominently display their security cameras. In addition, you can use surveillance cameras to assist in the gathering of evidence in the event that a crime does take place.
It is essential for a light bulb camera to have the capability to take pictures even when there is very little available light. This is one of the most critical aspects of a light bulb camera. This is due to the fact that the vast majority of crimes are committed during the night, making it imperative. But the lightbulb security camera using its extraordinary features can be able to see them properly in low-lit settings.
Features of lightbulb security camera
Before installing security cameras such as lightbulb security cameras, you have to know some facts. The presence of security cameras, like the lightbulb security camera, can effectively discourage criminal activity. Investing in security cameras is recommended for this reason, which is likely the most obvious one. Would-be criminals get aware that the security camera will track and record their activities. So, there is a decreased likelihood that they will try to break in or commit mischief. There are some special features lightbulb security cameras provide. Here are some points for you:
The camera is equipped with intelligent technology that enables it to immediately reconnect after a power outage. Every recording is encrypted, and the only person who can watch them is the administrator.
It offers color night vision and has a wide-angle lens that can spin around a full 360 degrees. It includes sophisticated tracking, which tracks the target's every movement and keeps tabs on where they are at all times.
This camera has a slot for an SD card that is capable of storing a 64 GB card, which allows you to preserve any recorded material for an extended period of time.
These safety light bulbs do not require any additional cabling, batteries, or adapters to function properly. Simply plug them in and they will work. The Light Socket Camera may be activated by simply screwing it into a regular light socket plug and then turning the power on. It will then be ready to monitor around the clock.
The lightbulb security camera has applications both inside and outside, but only in places that are completely enclosed. You need to take precautions to ensure that the camera does not get wet.
Multiple devices can use the same camera at the same time. You have the ability to provide family members, business owners, and employees who require access to the cameras permission to use them. So this is an efficient home security camera system as well as works like professional outdoor security cameras.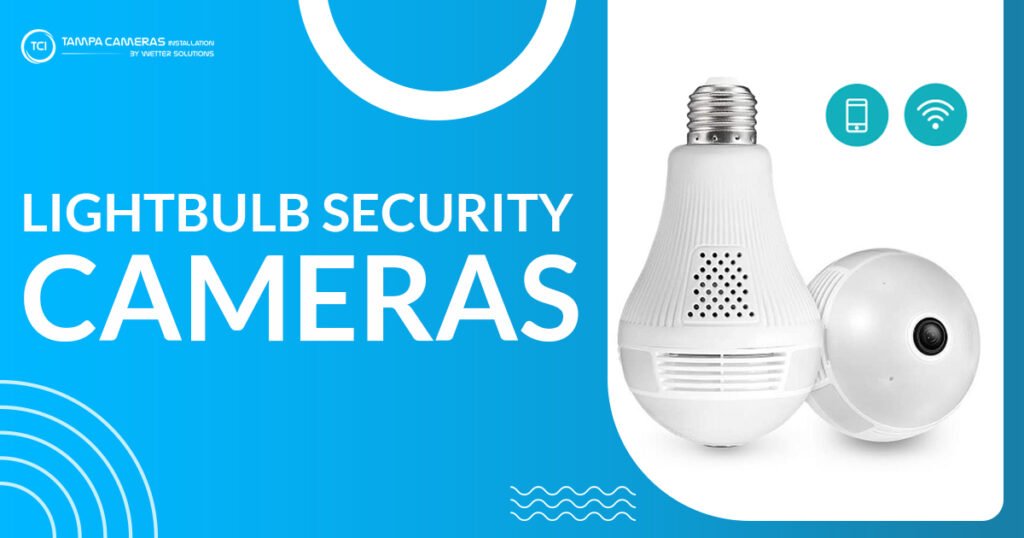 Facilities provided via lightbulb security camera
Installing this product is as simple as switching out a standard light bulb in your home, just as the name of the product would lead you to believe. After you have fixed it into a light bulb holder and connected the camera to the wifi network in your home, your home security system will be ready to go.
It is possible to place the camera into the light bulb socket of the majority of standard light bulbs, you won't need to spend additional money on camera holders or any other kind of support. After taking the camera out of its packaging, screwing it into one of the light bulb holders, and connecting it to your home's wifi network, all that is left to do is use the camera's app to observe what is going on in the surrounding area.
Let's look at the facilities of employing a light bulb security camera instead of a CCTV camera system.
Simplistic method of installation: As mentioned before, this item is easy to put together. And you don't have to read through thick manuals to learn how the installation process works from scratch to know how to do it. Whether you are an experienced electrician or a single housewife who doesn't know anything about electricity, this modern device makes it easy to set up the security of your home. All you have to do is take it out of its packaging, take a light bulb out of its holder, put the camera in the holder where the light bulb used to be, and connect it to the wifi system.
Full-colored and quality night vision capturing: There are a lot of cheap home security cameras including black-and-white camera systems on the market that can record video. Even when a burglar tries to break in but fails, it can be hard to see his face well enough to figure out who he is. But if you have a light bulb security camera, you can get a high-quality, full-color recording even at night when it is completely dark.
Notification via alerting function: Imagine for a moment that you have a sneaking suspicion that the safety of your premise has been breached. If this is the case, you can use the alarm that is integrated into the security camera to frighten away any potential intruders who are trying to break in. The volume of the sound has been turned up to ensure that any potential intruder will be startled and will flee the area before the rest of the neighborhood becomes up.
Capable of monitoring babies, adults, or animals: It is essential to ensure the safety of your young children and your pet at all times. Even when you are not at home, you have a camera set up in your home so that you can check in on them remotely. This camera can also be put to good use as a baby monitor or a monitor for pets. The knowledge that you are keeping a close eye on the well-being of old adults will help you feel at ease.
Ability to track motion: Both in sunlight and low-light conditions, the camera is able to detect any movement. It put the flashlight on the subject of the movement and continues to follow it until it leaves the area. At that time the camera can detect motion. Besides this, it will also send an alert to your devices to inform you that there is an unauthorized person on your property. This will let you know that someone is there.
The ability of a two-way audio facility: You will be able to communicate with your babies to find out where they are. You can even chat with a visitor to find out why they are visiting. All you can do without opening the door or window, that would compromise the safety of your home. It reduces the cost to install ring doorbell cameras. Besides these, you can use the two-way audio system to communicate with your infants, older ones, and visitors.
Installation process of lightbulb security camera
Lightbulb security camera has a flexible installation process compared to other cctv camera installation. You just need to follow few steps to complete the installation procedure. 
There are some things to consider before plugin the lightbulb security camera. You have to have a lightbulb camera. For installing it requires a WiFi router and an apps for installing in any smartphone or any other devices.
At first, make sure the power connection remains off.
Then put the lightbulb socket where it needs to place.
Before turning the power source on, insert the lightbulb into the socket.
At last use the installed apps to make a proper connection. Here it doesn't require any extra camera installer. You will find all of the necessary things in the manual script given with apps and camera box.
There is no need to pull data/ voice cabling or any other structured cabling. Compared to other cctv security camera, there is no need of Cat6 Installation in setting up the lightbulb camera.
Conclusion
You can use lightbulb security camera not only for ensuring security purpose but also for monitoring infant child and adults.   Because it includes an integrated led lighting system, even if you have to remove the bulb from the light fixture on the back porch, you will still be able to turn on a bright light and illuminate the surrounding area whenever you choose.